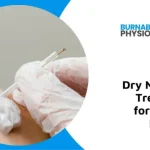 Plantar Fasciitis Dry Needling: An Effective Step to Recovery
October 22, 2022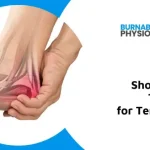 Shockwave Therapy for Tendonitis: Natural, Safe, and Effective Treatment
November 23, 2022
Seven Health Benefits Of Dry Needling Through Physiotherapy Care
When it comes down to physical therapy, many people envision ice packs, hot towels, stretching workouts and power-building routines. But physical therapists make use of a broad assortment of treatment methods to help people recover from accidents or surgery, handle chronic conditions, minimize pain and avoid potential future issues. And among the most beneficial of these treatment techniques is dry needling.
Surprised? You shouldn't be. Dry needling is a common procedure employed by physical therapists to help in reducing pain, releasing muscle tension, increasing range of movement, and accelerating the recovery process after an injury.
Widely mixed up with acupuncture, dry needling is an advanced hands-on stimulation procedure that's also utilized to release tension in exceptionally tight muscles, disperse snarls of muscle fibers, and reduce discomfort and inflammation.
Regardless of what you refer to it as, dry needling is a worthwhile therapy for anybody who's recuperating from an injury or other disorder. In this article, we'll uncover precisely what dry needling is, several common uses for it, and seven benefits you'll enjoy from receiving this procedure after surgery or as a component of your recovery from an injury.
What is Dry Needling?
Dry needling, also referred to as IMS Therapy, is a manual therapy method that's carried out by the insertion of needles into tight or inflamed muscles. The filament is then manually rotated to break up muscle fibers and activate the nearby nerves and connective tissues, which helps reduce discomfort, improve blood flow and promote healing.
Dry needling is different from acupuncture in a couple of ways. First, acupuncture needles are set in your skin and aren't put into the muscle (like dry needling). Second, acupuncture is typically performed by an acupuncturist, who's trained to identify and treat imbalances in your qi (life force energy), whereas a dry needling physiotherapist is generally trained in treating your muscles.
Typical Uses for Dry Needling
Dry needling is a really flexible procedure, and most people can profit from it, even though they are not recuperating from surgery or an accident. Some usual uses for dry needling consist of:
Acute and Continual Pain: Dry needling is incredibly effective at pain relief, lowering severe and chronic pain, whether you suffer from joint pain, muscle pain or neuropathic pain.
Body Immune System Boost: When you experience pain, your body generates more cortisol, which is a natural steroid. Excessive cortisol may damage your body's immune system, which can leave you more vulnerable to infections and illness. Dry needling can help lessen your cortisol levels, which will boost your immune system and make you less prone to get sick.
Muscle Stress, Tremors and Spasms: If you suffer from spasms and tension in your muscles or tremors in your hands and feet, dry needling can help relax your muscles and lessen the shaking.
Nerve Complications: Dry needling can help stimulate nerves that are pinched or compressed due to an injury or chronic condition, such as sciatica, carpel tunnel syndrome and wrist pain.
7 Real Benefits of Dry Needling:
Benefit #1: Lessened Swelling and Pain
When you hurt a muscle, your body responds by increasing blood circulation to the wounded location and infusing it with leukocytes. This experience is known as inflammation, and it's a normal part of the recovery process.
Regrettably, excessive swelling and inflammation can cause increased pain and slow the therapeutic process. Dry needling can help in reducing swelling, decrease your discomfort levels and speed up your healing time.
When your physiotherapist performs the treatment, he or she will insert the filament into the swollen muscle and manually rotate it to break up the compressed muscle fibers. This stimulation starts your body's normal healing process and turns on your muscles' proprioceptors, which relax your muscles and minimize your pain.
Benefit #2: Faster Healing Process
Whenever you hurt your muscle tissues, nerves and connective tissues, they're typically left with scars and adhesions, which can place excessive tension on your healthy tissues and joints. Dry needling is an exceptional treatment method for breaking up these adhesions, which can help release tension in your joints and promotes blood flow throughout your body, speeding up the healing process.
Benefit #3: Enhanced Range of Movement
After a muscle tissue or joint injury, you may encounter limited range of motion, which may make it difficult to move freely and perform everyday activities. Dry needling can help decrease the stress in your muscles and the adhesions in your joints, which can enhance your range of motion, reduce tightness and make it more comfortable to move around.
Your physiotherapist will insert the needles into the constricted muscle fibers and physically turn them to break up adhesions and relax your muscles. This will help you feel less discomfort and have more flexibility in your joints.
Benefit #4: Increased Mobility and Strength
Dry needling can help enhance your mobility and strength, even in the event that you do not have a joint or muscle injury. Any time you carry out an exercise routine, your muscle tissues contract and produce lactic acid, which can cause muscle soreness and lessen your strength over time. Dry needling can help remove some of that lactic acid and lessen muscle pain, which will allow you to build more strength and carry out daily activities with less fatigue and discomfort.
Benefit #5: Decreased Risk of Reinjury and Worsening Problems
Injuries are not uncommon, but they can be considerably cut down when you team up with a physiotherapist. Physical therapists use a variety of treatment methods–including dry needling–to help your muscle tissues regain their strength and vitality. By triggering the body's normal process of healing and inflammation, dry needling helps shield you from re-injury and helps to protect against persistent conditions from worsening.
Benefit #6: Relieved Muscle Convulsions and Stress
If you struggle with ongoing muscle spasms and stress, dry needling can help ease the pain and stiffness you experience. Your physiotherapist will insert the needle into the hypertonic muscles and physically turn it to release the tension. Your physiotherapist may likewise apply slight pressure and stretch your muscles, which can help alleviate your convulsions and discomfort.
Benefit #7: Reduced Recurring Pain
If you experience persistent discomfort, dry needling can help in reducing your pain and make it much easier to deal with your condition. Routine visits to your physio therapist for dry needling will keep getting rid of adhesions and enhancing blood flow to your uncomfortable muscle and tissues. This helps lessen recurring discomfort and makes it easier to move around and perform day-to-day activities.
Final Thoughts
When carried out by a trained therapist, dry needling can be an extremely beneficial treatment method for anyone who's recuperating from an injury or suffering with persistent pain.
It is particularly successful at reducing pain, increasing blood flow and promoting restorative healing, reducing joint and muscle stress and convulsions, and improving range of motion and flexibility. Consequently, you'll recuperate much faster, minimize re-injuries and enjoy an overall higher quality of life. Contact your local area physiotherapist to learn more about how dry needling can help you.
Contact the experienced, qualified therapists at Burnaby Heights Physiotherapy in Burnaby BC soon and we can begin easing your discomfort. Now booking new appointments!